Missed Messages – Angela He Review #3
Today I'm here to tell you about this free game with quite delicate themes.
"goth gf's iPhone" airdrops you a photo. Accept or decline?
What is The Missed Messagges about?
"Missed Messagges" delves into the birth of a bond and how a friendship can come about through memes.
CONTENT WARNING – Self-Harm, Suicide.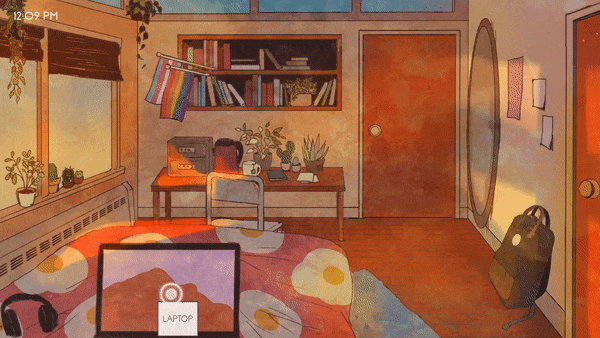 The gamer receives an airdrop from the iPhone of 'goth gf' and is your first approach in what will be an emotional journey.
The exchange of photos and memes , will lead to touch on some very heavy topics, such as suicide and self-harm but are balanced with some tender moments.
Thoughts on the game mode and game development
I stand corrected, I haven't touched a visual novel in a long time, but nonetheless, I was very impressed with this video game.
The designs are in a style I love, the little interactions with the surroundings are nice, and the dialogue is very simple and flowing.
Missed Messages is a short title where it highlights delicate themes, but it doesn't bore you, on the contrary it makes the gamer try to understand the story he is about to live.
The game has a great soundtrack and great graphics, but the game is not for everyone.
With a great soundtrack and relaxing graphics, players are sure to get lost in this quest for happiness. With 4 different endings to find, you'll also have your hands full trying to figure out which memes and answers are right to get to the game's conclusion.
"Pay attention to your surroundings," is what this game is trying to tell you.
Missed Messages created by Angela He . You can download it on Itch.io for extra content or on Steam for free (Windows, Mac OS, and Linux.) It takes about an hour or two to finish it.
Follow Me Madenoiselle Tea
Heinz Beck diceva che la cucina non è mangiare. È molto, molto di più. Cucina è poesia. Per me la cucina è ben oltre le apparenze, è un gesto d'amore e così nascono le mie ricette insieme a tutte le foto correlate. Sono Zelda e dal 2013 gestisco il blog chiamato Appunti di Zelda. Scrivo di ricette, libri e di viaggi con occhio principalmente legato ai piatti e tipici locali di ogni luogo che visito. Sono anche un'amante della birra e bevo troppi caffè e infusi, oltre a curiosare tra scatti e studiare diverse tipologie di cucine.
You May Also Like
8 Giugno 2021
27 Febbraio 2022